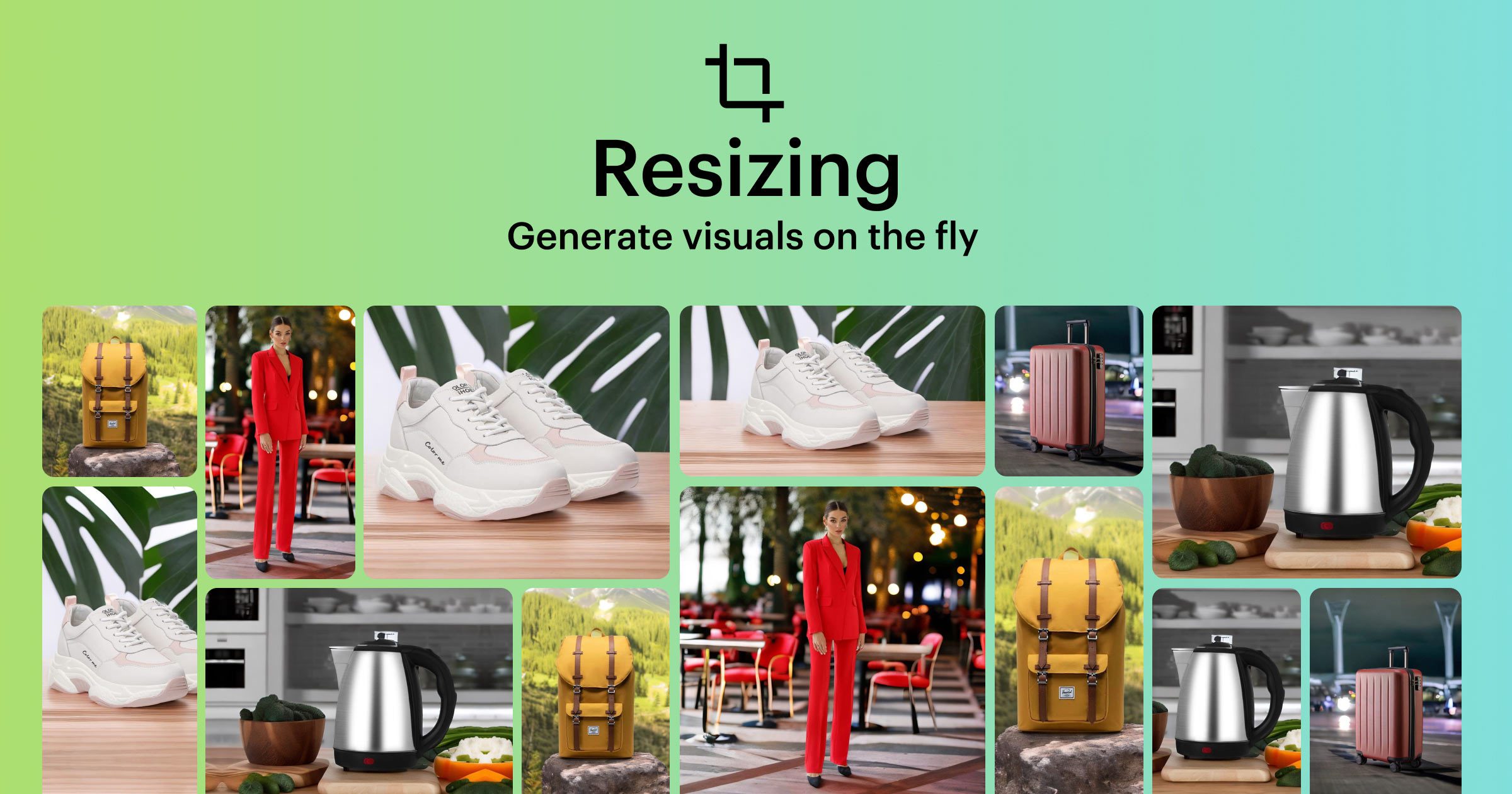 Improve the quality of your product images with 24AI and save a lot of time and money adapting your visuals.
Say goodbye to routine. 24AI is an advanced tool for quickly generating product lifestyle images and adapting them to all sizes. Creating captivating social media posts, stunning hero banners for your website, top-of-the-line visuals in product cards — now it's easy. The cherry on the cake is that 24AI finishes up, fills in the missing parts of an image to the right size. 24AI delivers top-quality renderings of your brand in a couple of clicks.
In 24AI, users of paid plans can resize the generated images to any size: 1080×1080 px (Instagram square), 1080×1920 px (stories), 940×788 px (Facebook post), 1920×1080 px (email banner) or any other size.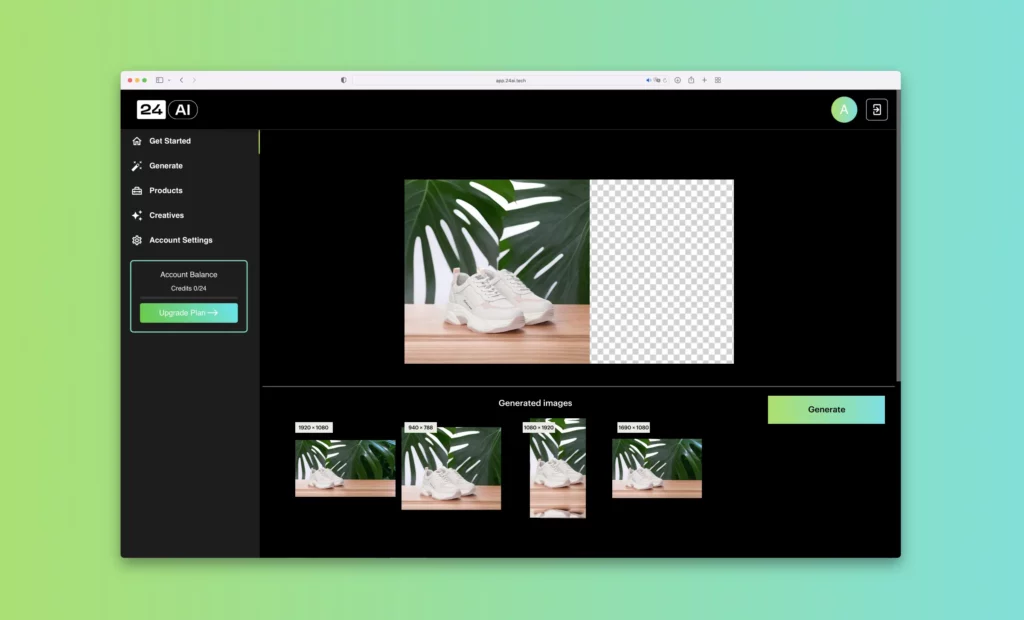 The 24AI method for creating social media posts, email banners, and hero images
The 24AI now allows you to generate multiple product images quickly and easily.
Step 1: Import your product image
The 24AI has a function to automatically remove the background of a photo.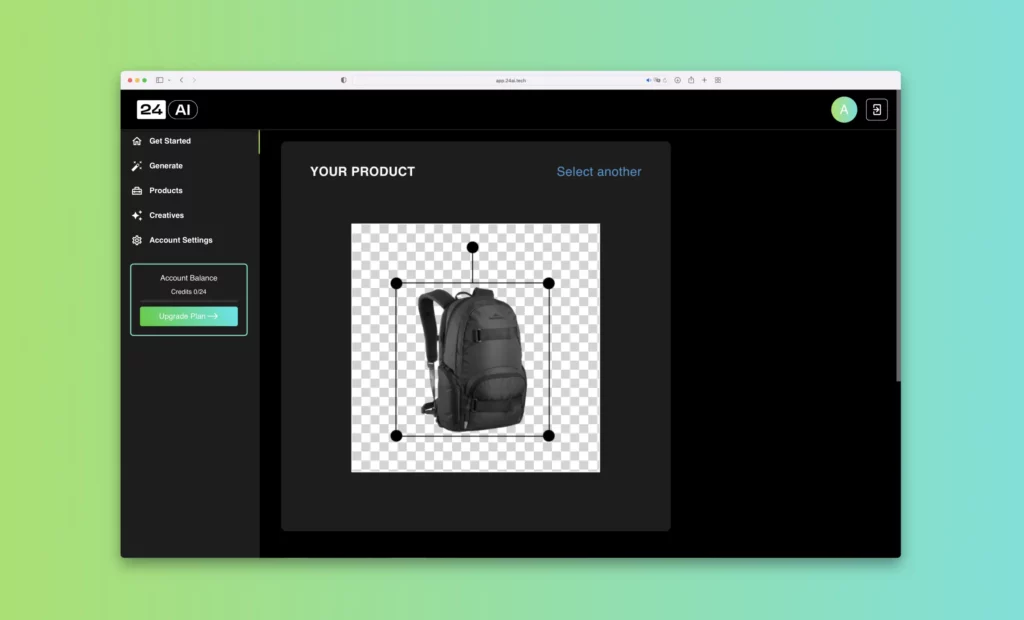 Step 2: Choose a topic
For your convenience, 24AI provides 17 free themes, including "Bathroom", "Flowers", "Kitchen", "Cafe", "Water", and more. Choose the right theme and click "Generate" to instantly create four images. You can create more options by clicking "Generate" again.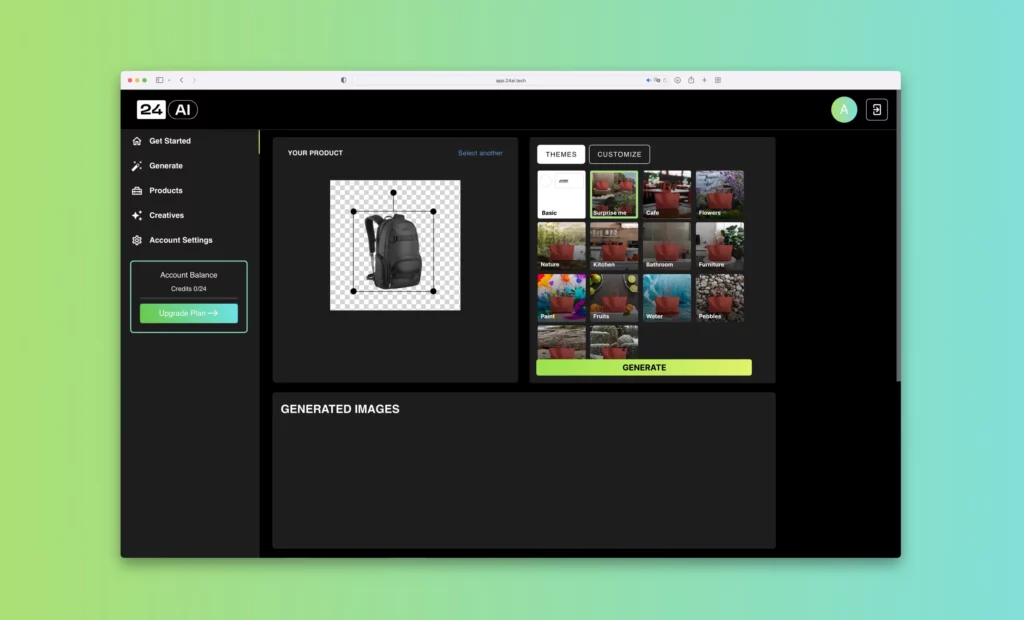 For users with a paid subscription, it is possible to create custom themes by describing the desired background, for example, "Sunset in the Sahara Desert, the sea in the background", or others.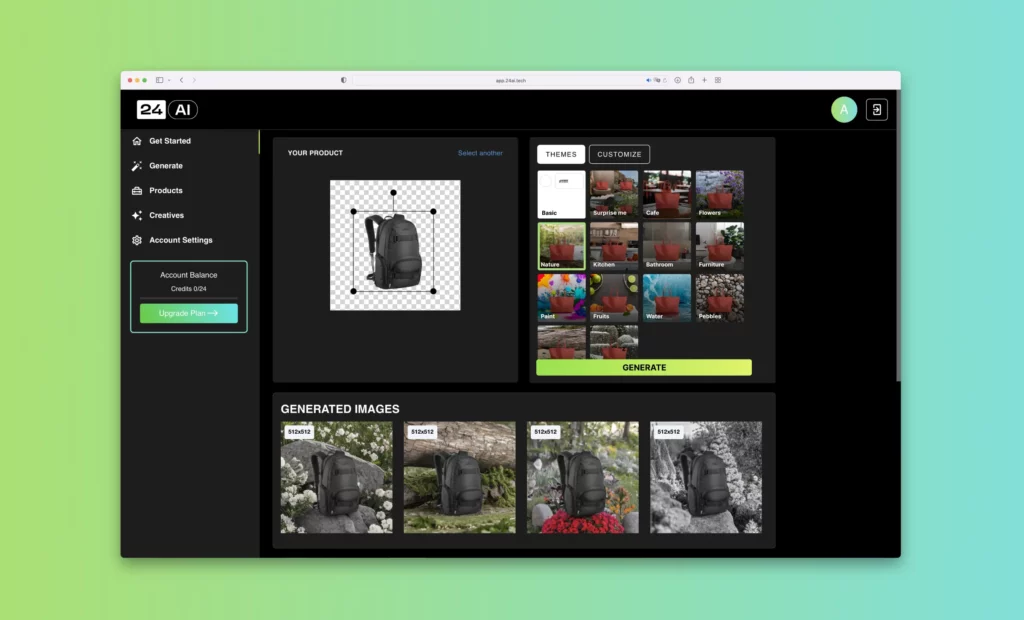 Step 3: Adapt your favorite images to the right size
To resize an image, hover over the image and click the three dots in the upper right corner. Select Resize to resize the image.
You'll enter edit mode, where you can choose from a list of preset canvas sizes or set your own.
Before you click Generate again, you have an option to reposition the current image on the canvas and resize it.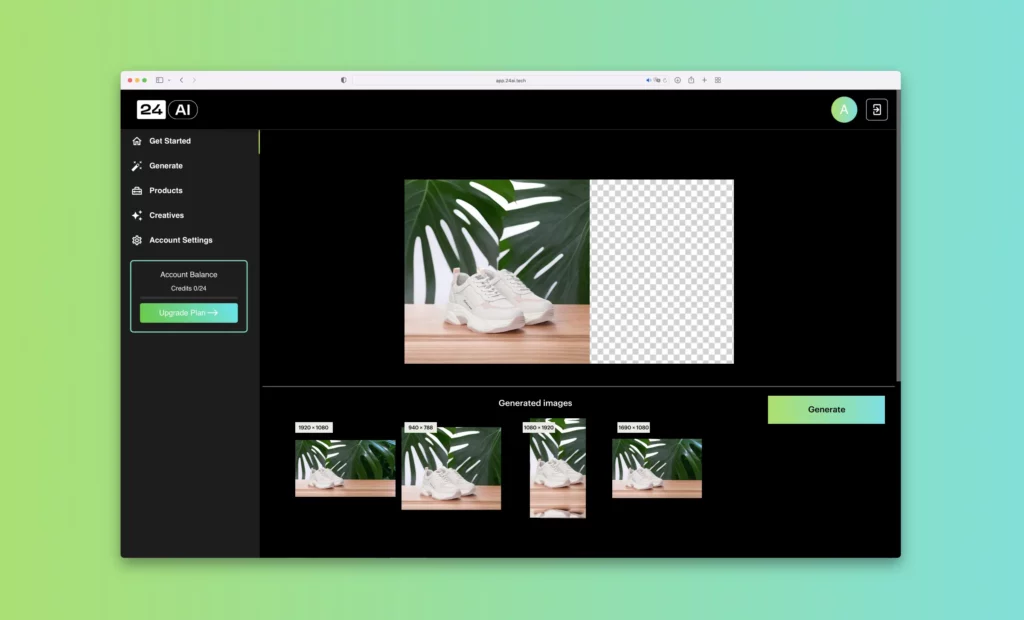 Here 24AI performs two tasks:
It builds up the image to cover the blank area of the canvas
Upscales the image.
You can generate as many images as you want, so feel free to create many variants.
---
Where you can use adaptations
As versatile as square images are, changing the format is often to the brand's advantage.
1. Preparing social media posts (4×5 and 9×16)
In social media, it's important to diversify your content to keep your audience interested. One way to do this is to show your product horizontally and vertically, depending on the viewing context.
For example, vertical images take up more screen space on a mobile device, allowing you to fully capture the viewer's attention as they scroll through their feed. This, while small, is useful for attracting customers to your product.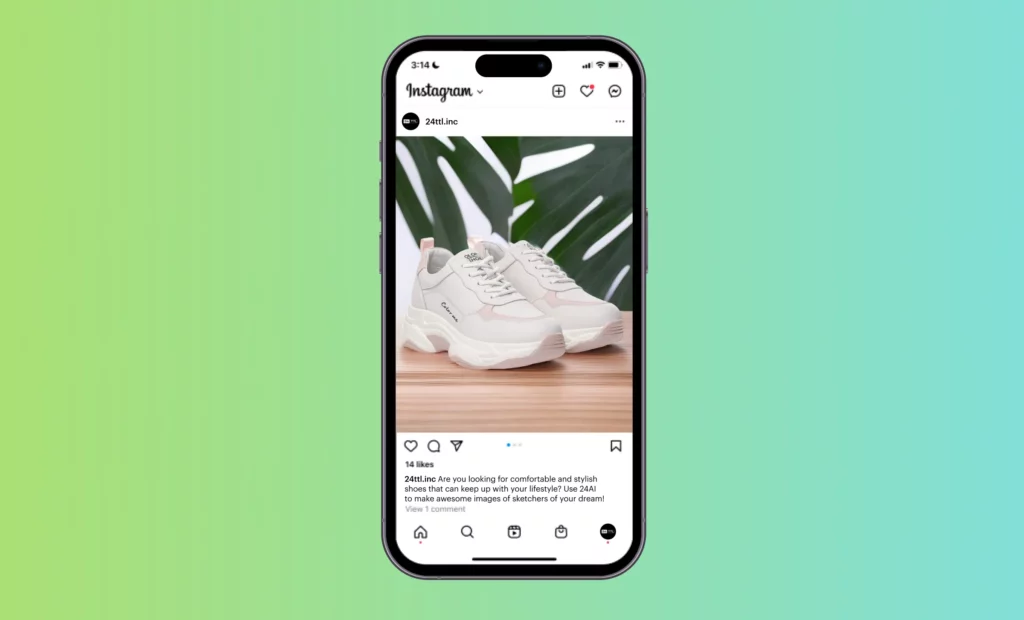 2. Adapting images for an hero banner and email banner
An image of a hero banner on your site creates a first impression of it and your company, making the visual an essential element of your overall branding strategy. In-email banners are also often key components in marketing campaigns.
Creating these important visual elements the old-fashioned way is not an easy task. Luckily, with 24AI's resizing feature, you can easily expand (grow) your favorite generated images to the size you need with extreme ease. The Artificial Intelligence will take care of the missing parts for you.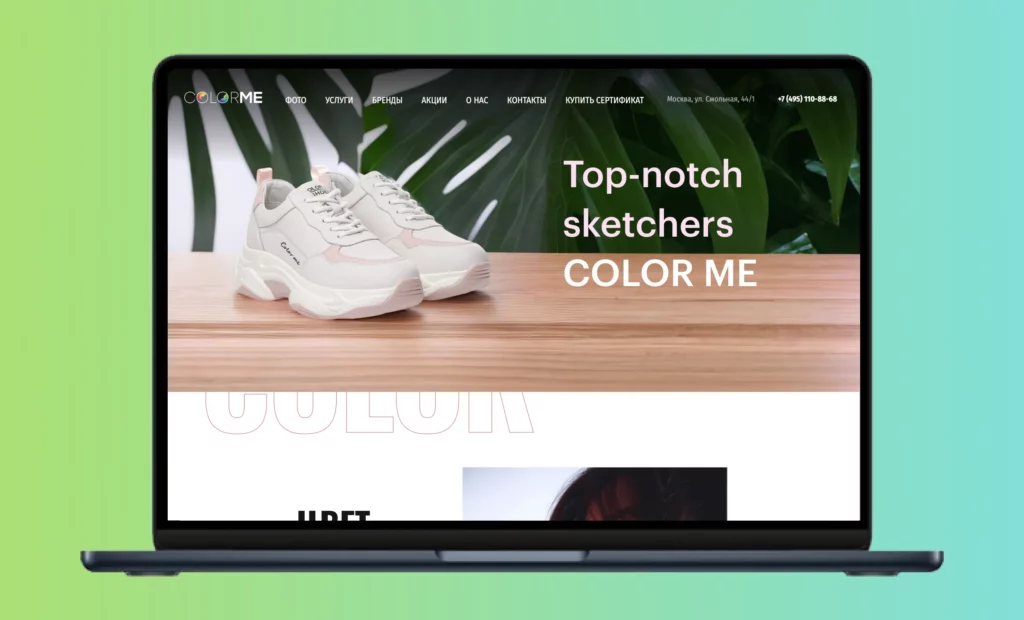 After "building up", it's possible to painlessly add text to the image. What used to be a headache for designers is now elementary.
3. Change the position of your product in the generated images
As 24AI expands the image by taking up the entire canvas, you can refine your generated images using it. Suppose you like the background of a generated image but want to change the layout of your product slightly. In this case, you can do so with ease. Adjust the position of the product and click «Generate,» and 24AI will build up the missing parts of the image, keeping the original background you like.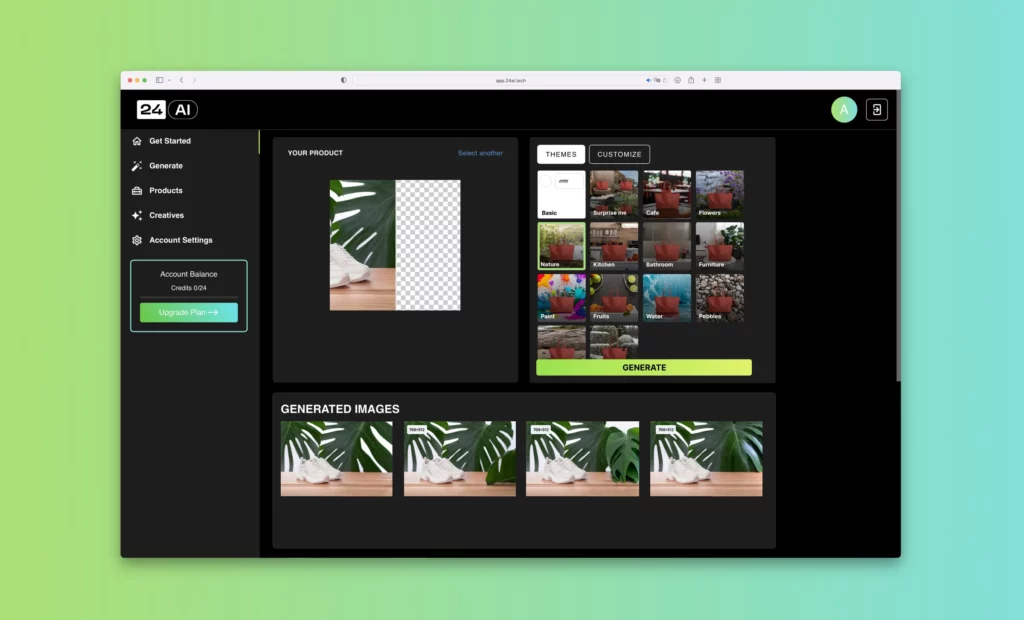 Please share your thoughts with us
Our goal at 24TTL is to use AI to help companies in eCommerce in a tangible way. These new technologies help to create content that promotes your brand and grows your product sales.
We welcome your feedback on this service. Please write to hello@24ttl.net. We want to ensure that we're not leaving out any important features of the service for you, and that 24AI meets your needs.